2020 Juxtopia HEEHD Conference
December 10 @ 8:00 am

-

December 11 @ 5:00 pm

$360
Event Navigation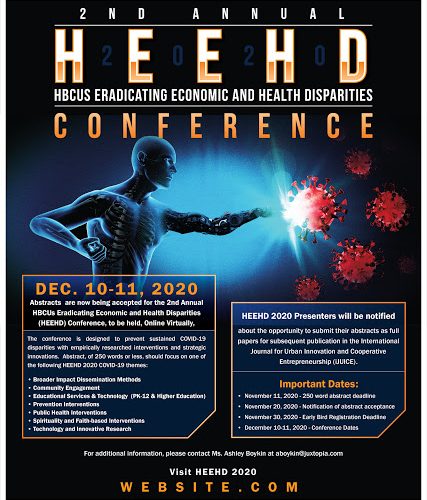 Historical Black Colleges and Universities (HBCU)s & Minority Serving Institutions (MSI) (i.e., Hispanic Serving Institutions and Tribal Colleges) currently develop and have great potential to cooperatively increase sustainable biomedical & information technology (IT) related inventions and innovations that create 1) intellectual property (IP) (i.e., copyrights, patents, and trade-secrets) for MSIs; and 2) capabilities to tech-transfer their IP to minority companies that, subsequently, translate IP licenses into commercial products that directly address health disparities, enhance the economic status of MSIs and minority businesses, and create more U.S. high paying jobs for minority youth and adults. 
Hence, the 2nd Annual HEEHD 2020 Virtual Conference will address, directly, the aforementioned disparities.
HEEHD 2020 invites empirical research and innovative abstracts from HBCU/MSI faculty & undergraduate and graduate students; minority biomedical companies; and relevant organizations/agencies focused on techniques & methods that effectively facilitate innovative research and development (R&D); technology transfer; and resulting product/service commercialization to address the COVID-19 economic and health disparities within and among minority populations.
The HEEHD 2020 conference will provide an engaging forum, conducive for HBCU/MSI faculty and graduate students, to learn and further develop capabilities to secure biomedical related R&D funding; effectively manage translational R&D funding efforts; improve technology transfer infrastructure; and generate IP license revenue to continually develop solutions that eradicate U.S. COVID-19 related economic and health disparities.  The HEEHD 2020 conference will also facilitate a forum to identify mentors for undergraduate students who desire to learn the skills that contribute to the biomedical innovation ecosystem. 
This translational R&D oriented paradigm shift, for HBCUs/MSIs, has potential to improve the scientific knowledge of how innovative interventions, to prevent or mitigate health disparity, are executed. 
This tactical strategy has potential to economically sustain HBCUs/MSIs through technology transfer licensing revenue; galvanize a cooperative mission to address persistent economic and health disparities through innovations (i.e., generated by HBCUs/MSIs); and continue to achieve HBCU/MSI's initial mission of serving the educational needs of minority faculty and students.