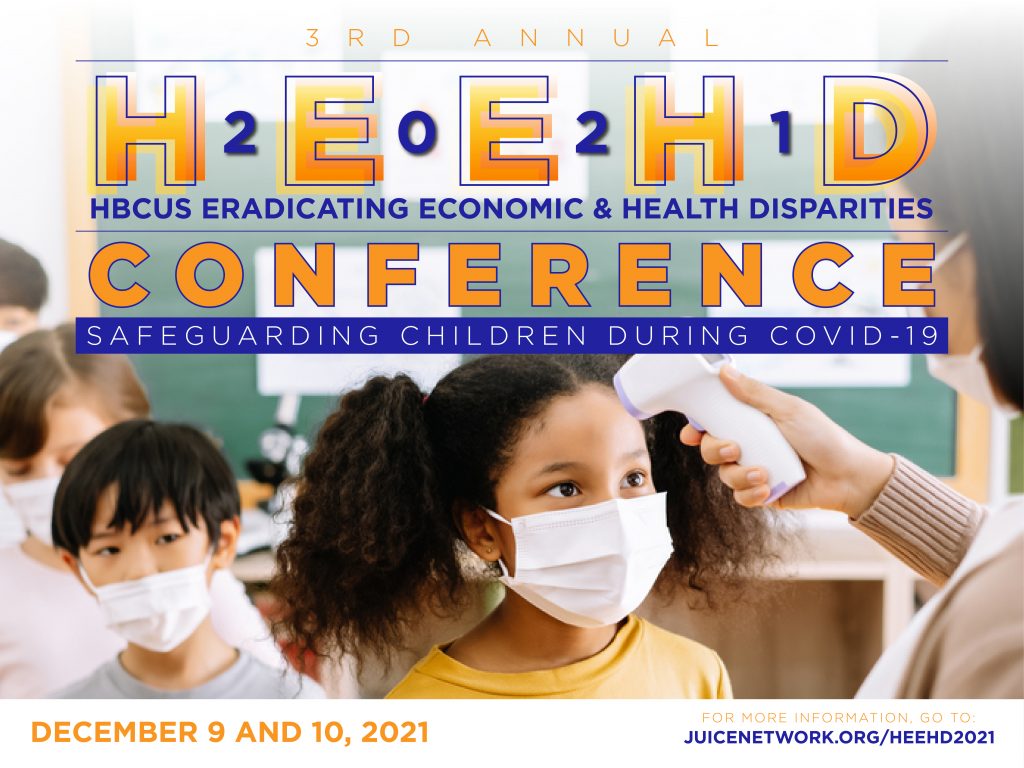 CALL FOR ABSTRACTS December 9 and 10, 2021
Call for Abstracts for the 3rd annual HEEHD Conference
Safeguarding Children during COVID-19.
Description. The HEEHD 2021 "Call for Abstracts" is a precursor to a subsequent submission of a final paper, which may be presented at the HEEHD 2021 conference. Authors are invited to submit an abstract regarding an original, unpublished paper that has not been submitted in any other forum. Authors may submit technical (oral) presentations, panels, and/or interactive posters.
Abstract of 250 words or less should focus on one of the following HEEHD 2021 topics as it relates to the HEEHD 2021 theme, "Safeguarding Children during COVID-19".
Innovations to Eradicate Economic Disparities
Innovative approaches to obtain customer discovery.
Case studies on commercialized National Institutes of Health/Small Business Technology Transfer (NIH/ STTR) products/services that address health disparities and create jobs for underserved and disadvantaged populations.
Discuss barriers preventing Historically Black Colleges and Universities (HBCUs) and Minority Serving Institutions (MSI)s (e.g., Hispanic Serving Institutions and Tribal Colleges) from securing significant funding or translating research results to address health disparities in minority populations.
Methods to train HBCU/MSI faculty and/or undergraduate/graduate students with proficient skills to significantly increase NIH grant/contract awards.
Public policy interventions (e.g., federal, state governments, industry, Non-Governmental Organizations (NGOs) on how HBCUs/MSIs can eradicate economic disparities.
Strategies to increase biomedical related intellectual property (e.g., copyrights, patents, trade-secrets, trademarks) among HBCUs/MSIs.
Innovative approaches to accelerate technology-transfer licenses from HBCUs/MSIs to minority companies.
Repeatable and optimized processes for transferring concepts to profitable biomedical products or services.
Effective methods for securing NIH Small Business Innovative Research (SBIR)/Small Business Technology Transfer (STTR) Phase I, Phase II, Phase II Bridge, Direct to Phase II, Fast-Track, and Phase III Sole-source
Effective methods for translating NIH funding (e.g., R03, R21, R01), as preliminary research, to NIH SBIR/STTR funding.
Measurable pedagogical/andragogical methods for teaching urban entrepreneurship concepts.
Pedagogical/andragogical approaches for training undergraduate and graduate students to conduct translational biomedical research.
Measurable interventions for encouraging biomedical & high-tech entrepreneurship among minorities who are historically underrepresented in science, technology, engineering, and math (STEM).
Biomedical Related Innovations to Eradicate Health Disparities
Autonomous healthcare robots that deliver vaccinations to children.
Autonomous vehicle systems to assist emergency transport of children to healthcare facilities.
Autonomous and intelligent community systems that protect children and/or marginalized populations.
Applications of mobile telehealth/telemedicine to address COVID-19 disparities.
Tools for real-time patient monitoring to early identify COVID-19.
Innovations in Quantum computing for improving COVID-19 diagnostic or treatment interventions.
Innovative Blockchain applications to safeguard children during COVID-19.
Wearable/implantable technology to prevent or treat COVID-19.
Microphysiological systems, Tissue, or Organ-on-chip platforms to improve COVID-19 treatment.
Cybernetic systems for preventing COVID-19 related illness, injury, and/or disease.
Cybersecurity innovations that protect biomedical devices, physical infrastructures, and information systems
Socially assistive robotics (SAR)s or wearable robotics (e.g., Exoskeletons) to assist lower-income or aging populations decrease injury and assist with daily operations
Innovative uses of Mixed Reality (Virtual Reality, Augmented Reality, Holographic Displays) to mitigate COVID-19 health disparities.
Affordable RNA/DNA detection (stem-loop probes, CRISPR/Cas, synthetic biology) to prevent COVID-19.
Innovative biosensors that analyze physiological, chemical, molecular, exosomes, non-blood bio-specimens (sweat/skin, hair, urine, oral fluid, interstitial fluid) for COVID-19 screening.
Sensors that early identify adverse environmental factors (i.e., air, water) that lead to health disparities.
Innovative whole body imaging for COVID-19 screening.
Deployable tools for in-home or remote COVID-19 monitoring
Data integration, predictive analytics, Electronic Health Records (EHR) interoperability and aggregators
Innovative applications of artificial intelligence, deep learning, and machine learning applications (e.g., Neural networks, Bayesian networks, etc.)
Neurotechnologies (e.g., Brain Computer Interfaces, Neural prosthetics, etc.) to early identify and prevent neural or cognitive disease, injury, or illness due to COVID-19.
Therapeutic and Diagnostic Systems and Technologies for addressing COVID-19.
External evaluation innovations for assisting community survey & focus groups participants.
Novel pharmaceutical engineering and drug delivery systems for COVID-19 treatment.
Innovative technologies to improve social-emotional wellness among children and youth.
Publications
Extended versions of selected papers will be published in the International Journal of Urban Innovation and Cooperative Entrepreneurship (iJUICE).
Accepted papers will be archived in the iJUICE Digital Library.
Abstract Submission Instructions
Submit HEEHD 2021 abstracts Below
Abstracts will be externally reviewed by the HEEHD 2021 Scientific Review Committee (SRC).
Registration
All authors and co-authors presenting from accepted abstracts are expected to register for the HEEHD 2021 Conference before abstracts and/or camera-ready manuscript can be included in the proceedings. Attendance will be taken.
Important Dates
October 29, 2021 – 250 word abstract deadline.
November 12, 2021 – Notification of abstract acceptance.
November 25, 2021 – Early Bird Registration Deadline.
December 9-10, 2021 – Conference Dates.
Call for Abstract Contact
For any questions regarding abstract submissions, please contact one of the following HEEHD Conference committee personnel.